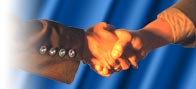 W
e, at Athyron, are dedicated to providing our customers with the finest innovative and exciting information technology solutions possible. From bank-wide financial applications to POS, we prize our commitment to customer satisfaction, from around the world and around the corner. From Mexico to Manila, and from Key West to Alaska, our product lines are the ones to watch for performance and price.
Creativity and Responsiveness
Continued investment in Athyron's research and development capabilities yield state of the art yet reliable software, to run mission critical business processes and ensure the longevity of the client's software investment.
Intuitively Easy to Learn
With decades of experience and thousands of users around the world attest to Athyron's ongoing commitment to develop and support easy-to-use, yet robust and powerful industrial software applications that put the power of information technology at the service of business.
From hospitality solutions to POS, CRM and ERP, our specialty is the ability to deliver integrated and seamless all encompassing solutions, install, customize and train your staff no matter where you are in the world at an incredibly low price, today!
We Excel In
Food-Service POS Software and Systems
Hospitality POS Software and Systems
Retail POS Software and Systems
Point-of-Sale and Point-of-Purchase Solutions
Touch-Screen Applications
Wireless Connectivity
Database Solutions
Data Mining
Electronic Draft Capture Integration
EMV Chip Technology Acceptance and Integration
Internet Portals and Back-End Server Applications
SMS/MMS Messaging Systems and Integration
Custom Applications
Best Value Proposition
Athyron's POS software runs on standard PC networks, thus benefiting from continued price pressure on ever faster and more powerful top brand PC's. Broad international appeal, multilingual features and compliance with multiple tax regimens are hallmarks of Athyron's POS solutions and the reason behind their distribution in four continents.