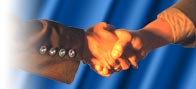 We, at Athyron, are dedicated to providing our customers with the finest innovative and exciting information technology solutions possible. We prize our commitment to customer satisfaction, from around the world and around the corner. From Mexico to Manila, and from Key West to Alaska, our product lines are the ones to watch for performance and price.
Creativity and Responsiveness
Continued investment in Athyronís research and development capabilities yield state of the art yet reliable software, to run mission critical business processes and ensure the longevity of the clientís software investment.
Intuitively Easy to Learn

Over 10 years experience and thousands of users around the world attest to Athyronís ongoing commitment to develop and support easy-to-use, yet robust and powerful industrial software applications that put the power of PC networks at the service of the service worker.